Fiji is a destination that people dream of visiting, often that dream persists for much of their life mainly due to the perceptions that Fiji is solely a honeymoon destination or one for people who have a lot of money. On the contrary, Fiji can actually be an affordable vacation at anytime during your life and yes, even with children in tow!
On our recent trip to Fiji, one hotel that I pursued on my own to visit was Koro Sun Resort & Rainforest Spa. I had attended a presentation by Tourism Fiji where their representative spoke of the new Floating Bures and the wonderful family friendly vibe of the hotel which included a nanny for children. I was sold and had to see it for myself!
Getting to Koro Sun is just the start of the adventure, as it is located on Fiji's other main (second largest) island Vanua Levu. With a 1 hour flight via Island Hoppers (from Nadi) or a small Fiji Airways propeller plane from both Nadi and the capitol Suva, you arrive to the small town of Savusavu.
As we descended below the thick layer of clouds, we got our first look at what we were in for on Vanua Levu – thick, lush rainforest covering hilly land with beautiful turquoise waters lapping on the sandy beaches. We couldn't wait to land!
Arriving to the airport is hilariously awesome. The "airport" consists of  an open sided building with a few chairs, a local style vending machine and two employees, all sitting right on the edge of the airstrip. We have boarded and deplaned on the tarmac many times and even landed in the sea, but this is definitely the smallest, most unique airport we have ever visited. Our 5 year old son LOVED it!
Upon landing, we were welcomed by a Koro Sun representative who loaded our bags onto their free shuttle. We settled in for the quick 20 minute drive to the resort, enjoying the beautiful scenery along the way. Unlike driving on Viti Levi, here, we passed almost no villages, very few if any cars and just a couple of hotels hidden behind rows of coconut trees. This was our first clue about how much quieter this island would be.
Arriving to Koro Sun, we were greeted by a handful of employees singing and playing guitar as we drove up. The welcome song they sang was beautiful and a great way to start our stay. This is one of the most beautiful traditions in Fiji. The "Bula Welcome" is sure to make even the most jaded of guests feel like royalty.
After we were serenaded, we were whisked inside to a refreshing foot bath, coconut scrub and massage. We relaxed into the oversized chairs, taking in everything around us through the drizzle that also welcomed us to Vanua Levu. The lobby doubles as the restaurant, bar and lounge area where guests relaxed on oversized beds reading books or checking email. We could already feel the laid back vibe present here.
We were booked into a 2 bedroom Rainforest Bure, which are fantastic for families. They overlook a large grassy garden area surrounded by rainforest behind. It is perfect for families with children who need a safe space to run around. The two bedrooms in the bure are separated by a small living room and well appointed kitchen. The highlight of the Rainforest Bure however, is outside the room – an outdoor shower, private plunge pool and personal hammock make for a perfect indoor/outdoor feel.
Just as we were settling in, we were told that an Edgewater Villa had became available. The Edgewater Villa is not as well suited for families, but provides a higher level of luxury and excitement as the two story villa is perched on the lagoon with steps leading directly into the turquoise water below. Our son loved the glass floor portholes where he could watch the rising and retreating of the tide each day. In addition to the oversized master suite with deck, the villa had a small living room, dining area, TV room (for DVDs only) and two bathrooms. Outside of our villa, again we had our own private plunge pool as well as a gated sitting area blocking the outside view. The ultimate in private luxury.
One of the main draws for us to Koro Sun were the advertised array of complimentary activities available to guests, including the Jungle Kids Club with Bula Buddy services. Unfortunately, our son was the only child at the resort during our visit and was not interested in going off with his assigned Bula Buddy on his own, nor playing inside the kids room. Even without the kid-free time we had envisioned, or good weather, we were not deterred from participating in everything the hotel had to offer.
Since our entire stay was overshadowed by cool, windy and rainy weather we were not able to test out the myriad of daily water activities normally scheduled such as the guided snorkel excursions, kayak treks, stand up paddle boarding and swimming complete with a separate kids pools with a super long slide. Instead, we took advantage of the tropical rainforest environment as well as taking in more cultural experiences.
On our first day, we joined the activities leader Andrew for a beautiful hike up into the rainforest to a small waterfall. He was concerned that we couldn't make it due to the slippery conditions created by the rain, but it was perfect and just the adventure we needed after a long day of travel. Getting lost (not physically) in the beauty of the forest, with huge trees, vines and tree ferns surrounding us was the perfect antidote to the disappointment of cloudy skies. We returned to the hotel rejuvenated and with thoughts of doing an even longer hike to a neighboring village (about 5 miles return up hilly terrain). Unfortunately the weather did not cooperate with us on that. Next time!
Another great excursion offered by the hotel is a visit to a local school. Back in LA, we had packed our bags full of pencils, paper, and other school supplies to donate. We were excited to finally get to visit after lugging around our supplies for a week! Living in India for so many years and working with extreme poverty, I was actually pretty impressed with the quality of the school and education offered. However, for my son who doesn't remember a lot about India, it was an eye opening experience to see how a school operates outside of the US.
We all enjoyed talking with the children about where we were from and answering their questions about our life. Fijian people love to sing and play music, so it's no surprise that we were again serenaded with a beautiful collection of local songs.  It is really an awesome treat to listen to their music.
Feeling full of love for such a beautiful experience and visit, we returned back to the hotel, to get busy with more on-site activities. My son enjoyed basket weaving with local plants, learning how to hand-line fish (didn't catch anything unfortunately), as well as playing on the small kids playground. I enjoyed reading an entire book in less than 24 hours while sitting on our deck overlooking the ocean.
Besides the disappointing weather, my only complaint is in regards to the dining options. There is only one restaurant at the hotel with no other places nearby when you need a change of pace. This isn't just a Koro Sun issue, as even in Savusavu, there are limited options. For a picky eater such as myself, having only two options for each meal was quite limiting. Being on a distant island in the middle of the ocean apparently can have some drawbacks it seems!
Overall, we had a wonderful visit to Koro Sun, even though the weather did not cooperate. The beauty of Koro Sun, is that it is a budget-friendly resort with a wide range of prices and styles of accommodation to suit all needs. The resort is able to simultaneously cater to romantic/honeymooning couples and families with children of all ages.
On the 160 acre property, there are garden-view bures, luxurious adult only over water bures as well as stream side and rainforest villas perfect for families. The accommodation options here seem endless, with all being wonderfully spacious, welcoming retreats to meet your every need. This is especially helpful for families looking to travel to Fiji, with needs to keep costs down. With all inclusive meals, nanny services and a wide variety of free, family friendly activities, it is an ideal choice. No matter your travel needs, Koro Sun is sure to meet them.
Things To Know Before You Go:
WiFi is free, but is very slow and not always reliable.
There are no TVs or iPod connections for in room entertainment (Except the Edgewater Villas which have a DVD player)
Excursions to town, the pearl factory, diving, etc are not included in the base rate.
Meal options are limited with typically only 2 main choices for lunch and dinner. However, there is also a separate menu for vegetarians to choose their daily meals from as well as one specifically geared towards children that you can also chose from by request.
There are a lot of mosquitos as it is tropical. However, there is no malaria risk, but be prepared with bug repellent or mosquito bands.
Ready to book? Head over to Booking.com for the best rates. Need more convincing? Check out the 5 reasons we think you should visit Fiji..it's not for what you think!
If You Enjoyed This Post, Sign Up To Receive Posts By Email or...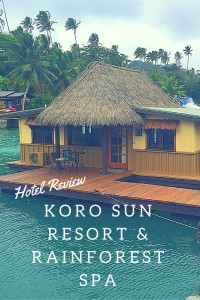 I would like to thank Koro Sun for providing us with a wonderful stay and visit. As always, all opinions, thoughts and reviews are my own.