Heading to Fisherman's Wharf in San Francisco? If so, you have come to the right place. After years of touring friends and family around the city, I know all the hot spots and best things to do in Fisherman's Wharf for all ages.
San Francisco is one of the top destinations in the United States for tourists and is a wonderful city for families to visit. A visit to the magical city of San Francisco is never complete without some time at Fisherman's Wharf. San francisco's most popular destination is of course super touristy, but for a reason. There are some great things to do at Fisherman's Wharf in San Francisco that it always tops visitors to do lists. Fisherman's Wharf is roughly considered the area between Pier 39 and Ghirardelli Square. It is easily walkable, however there are also vintage streetcars plying up and down the wharf in case you get tired of walking.
After spending so many years living in San Francisco playing tour guide to visitors and now visiting yearly with my son, I have come up with the perfect things to do at Fisherman's Wharf in San Francisco with or without children.
Disclosure: Some of the links in this post are affiliate links, meaning at no additional cost to you, I will earn a commission if you click through and make a purchase.
What is Fisherman's Wharf?
Fisherman's Wharf is a located on the northern waterfront facing out to both the Bay Bridge and the Golden Gate Bridge. This area of San Francisco is one of most visited tourist sites in the city. Fisherman's Wharf begins around Pier 33 where boats to Alcatraz depart and continues along the waterfront all the way west to Fort Mason and the famous Ghirardelli Square. On the inland side, it borders Nob Hill, Russian Hill and Telegraph Hill areas.
While it definitely has all the shortcomings of a major tourist area with touts, crowds and overpriced shops, it also houses a great deal of really fun and exciting things to do for visitors. From souvenir shops and stalls selling clam chowder in bread bowls to picture perfect views of San Francisco's most iconic sites this area is a must visit destination on most San Francisco itineraries.
For families, the resident sea lions, historic ships and the chance to eat a delicious ice cream sundae at Ghirardelli Square is more than enough to keep you busy for a day.
This area is filled with tourists for a reason – there are a ton of fun things to do in Fisherman's Wharf that you must make a visit at least once during your trip to San Francisco. Read on for our favorite things to do at Pier 39 and Fisherman's Wharf.
Top 7 Things to Do in Fisherman's Wharf in San Francisco
San Francisco continues to be one of my favorite cities in the world, especially with children. When I lived in the city I always dreaded visiting Fisherman's Wharf, but now that I have left, I find that it really does offer such iconic views and sights of the city that it's well worth the hassle in visiting. That said, even though Fisherman's Wharf can be quite busy there are so many fun things here to get you off the beaten path and away from the crowds.
A

Cable Car Ride

is One of Our Favorite Things to Do in Fisherman's Wharf in San Francisco
Riding a cable car up and down the narrow hilly streets is as quintessential San Francisco as the Golden Gate Bridge is. Luckily, riding a cable car is also one of the best ways to get to Fisherman's Wharf. There are two different cable car lines serving Fisherman's Wharf area that you can grab from Union Square. The Powell-Hyde line drops riders on Hyde and Beach Street (at the Aquatic Park near Ghirardelli Square), while the Powell-Mason line drops visitors on Taylor Street and Bay Street (middle of Fisherman's Wharf area, a few blocks from Pier 45 at Taylor and Bay Street). Both of these can be taken from Powell Street to the end of the line.
Tip: If you are on the Powell-Hyde line from Union Square, get off at Lombard Street to check out the world's curviest street before walking down the remaining 3 steep blocks.
Our suggestion – ride one line down and the other back up for the best of both worlds. Tickets are expensive, so if you think you will ride the cable cars more than once in a day or use other public transportation, think about getting a day pass. Otherwise, make sure to download the MuniMobile App that allows you to buy tickets for cable cars, street cars and other Muni transportation by credit card. This is a lifesaver. I can't tell you how many times I've been scrounging around for small bills to ride the bus home.
Hanging with

Sea Lions

is One of the Best Things to Do at Pier 39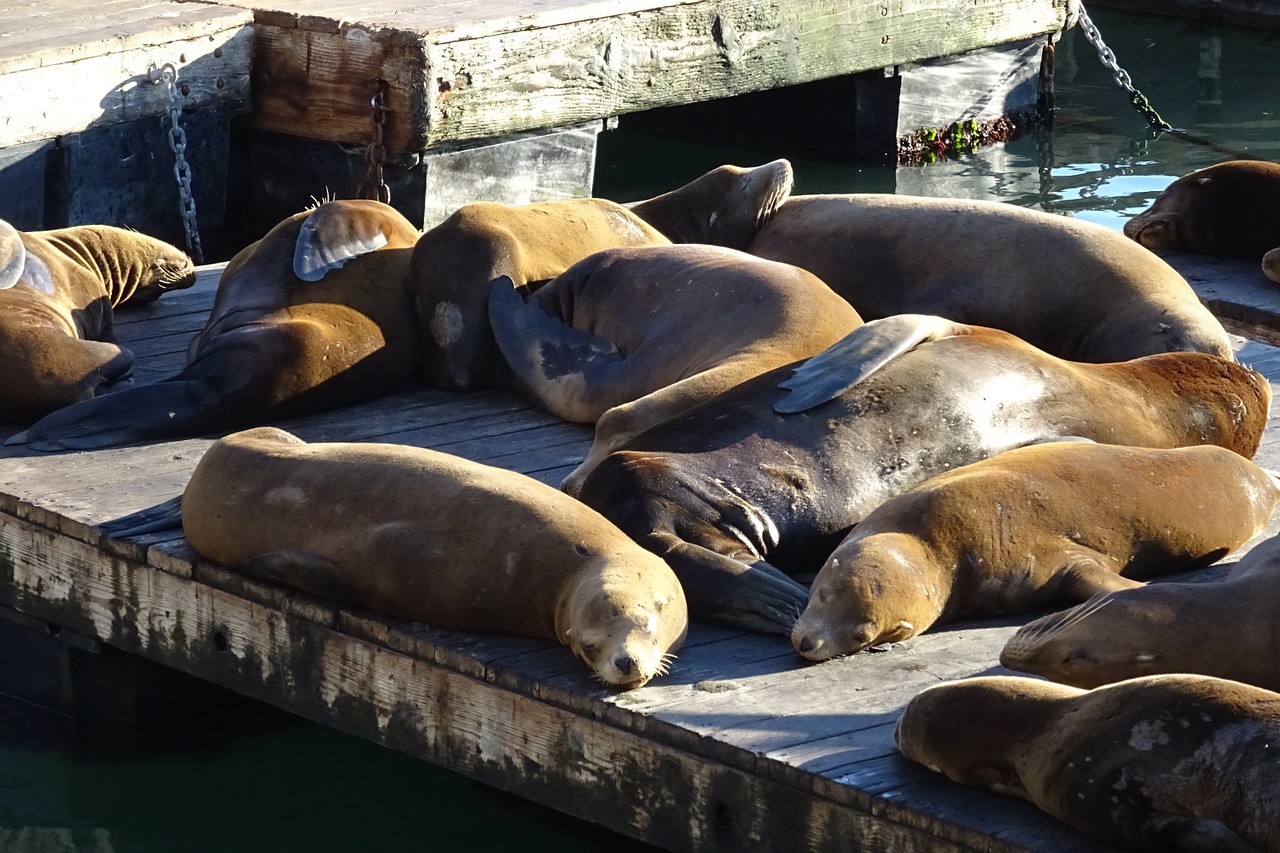 Regardless who you ask, one of people's top things to do at Fisherman's Wharf in San Francisco is seeing the sea lions at Pier 39. Watching sea lions lounge on floating wooden barges is somehow totally and completely mesmerizing. They flop around, fight and yell with hordes of visitors watching on. I have been there countless times and still get sucked in, every single time! For people who don't live in California, it's a definite treat to be so close to sea lions in the wild. If you want to know more about the sea lions, head up to level 2 to the Sea Lion Center where you can read more about the sea lions and touch their pelts. This is a popular tourist attraction for good reason!
Tip: While you are at Pier 39, take a ride on a classic two story carousel. Even if you don't have small kids, taking a spin on it will bring a smile to your face!
Other Great Things To Do At Pier 39
The most touristic part of Fisherman's Wharf in San Francisco is without a doubt Pier 39. Here you can find a whole host of things to do including museums, street performers, eateries and of course plenty of shopping. Magowan's Infinite Mirror Maze is a super fun destination for those who want to experience a colorful and sometimes bewildering visual treat.
Some of our favorites Pier 39 attractions are:
Aquarium of the Bay
The Sea Lion Center
The 7D Experience
Musical Stairs
The San Francisco 2 Story Carousel
The Crab House for delicious fresh seafood
Houdini's Magic Shop
Street Performers and Musicians
For more details on the shops available at Pier 39, check out their map and directory.
DETOUR: A great detour from Pier 39 is to Coit Tower and North Beach where you can find excellent Italian food due to its history of being home to Italian immigrants.
Take a

Boat Ride to Alcatraz Island

from Pier 33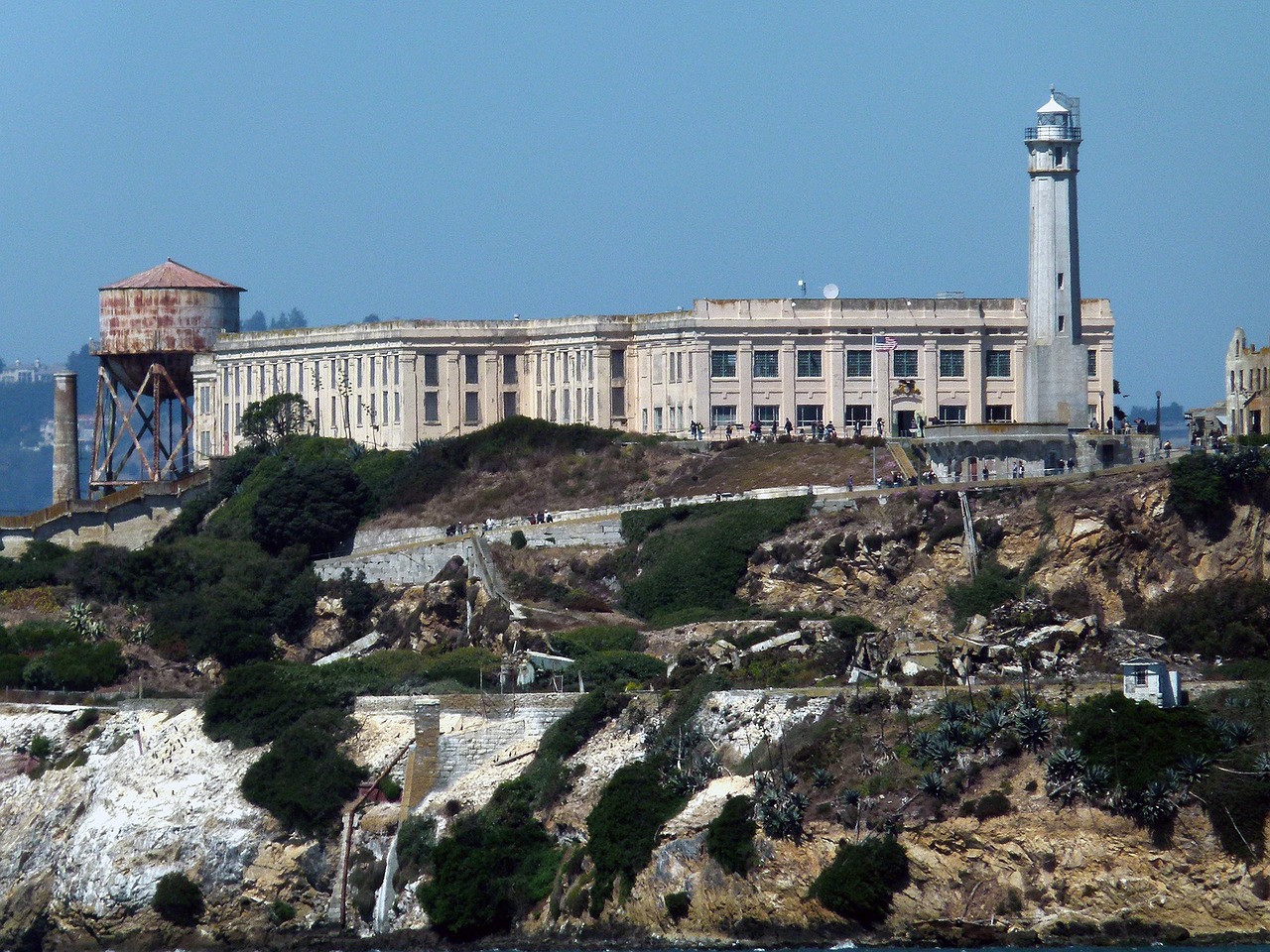 When deciding what to do in San Francisco, a boat ride to Alcatraz should be on the top of your list of things to do at Fisherman's Wharf. This is one of the best Pier 39 attractions and appears at the top of most San Francisco itineraries for good reason. It provides a great opportunity to get out on the water with beautiful views over the city and the Golden Gate Bridge as well as providing access to the infamous Alcatraz prison.
Tickets for this often sell out quite a bit in advance during peak tourist season and on weekends, so buy early if you can. If you just can't be bothered to plan too far in advance, get online the morning of and see what times are still available. Typically mid to late afternoon boats don't fill up as quickly as the morning.
Another great option is to book a tour that includes Alcatraz with other San Francisco sites like the Golden Gate Bridge.
Once you have arrived on the island, make sure to grab your Junior Ranger booklet (yes this is one of 10 San Francisco National Park sites!) for the kiddos and enjoy wandering around the old jail, taking in the sights and if you choose listening to the (very informative!) audio tour. Dress in layers (with warm socks/shoes), regardless of the time of year as it's always super chilly on the island.
Worried your kids are too young to enjoy Alcatraz? Opt for a 1 hour bay cruise that take visitors around the bay, by Alcatraz and the Golden Gate Bridge. This will give everyone a good view of Fisherman's Wharf in San Francisco from the waters edge!
Zip Around Town in a GoCar

Starting From Fisherman's Wharf in San Francisco
The addition of GoCar to San Francisco's tourist scene is wonderful for people who did not rent a car. GoCar is basically a GPS guided tour, putting you at the wheel of where you want to go. The GoCar allows you to zip around town to see many areas of the city without having to walk up massive hills or navigate the bus system too much. Each car comes preloaded with over 200 points of interest which allows you to make the most of your time, based on your interests. The included helmets have built-in audio guides, providing information about specific San Francisco landmarks and neighborhoods as you drive through them.
GoCar's only seat two passengers at a time, however we have seen many families cruising around behind one another. The GoCars are pricey, but provides a fun, unique way to explore San Francisco without having to worry about a car (or pay parking fees) during the rest of your visit.
Want to get out of the city? What about going to the Suisun Valley for a Jelly Belly Factory Tour and beautiful wine country drives.
Learn About San Francisco's

Maritime Past

at the Hyde Pier
The San Francisco Maritime National Historical Park is the other of two national park sites located at Fisherman's Wharf. The visitor center and maritime museum located on the corner of Hyde and Jefferson Street is a great opportunity to learn a bit about the maritime history of San Francisco, even if you don't have time to visit the ships across the road.
Here you can visit the USS Pampanito, which made six patrols in the Pacific during World War II sinking 6 Imperial Japanese ships. We were also surprised to learn how many boats are buried under the city! If you have time, head across the road for more hands on activities for kids as well as several massive ships to explore. Don't forget to pick up your Junior Ranger booklet for a badge.
Tip: The visitor's center has clean, family friendly restrooms available which is not always easy to find at Fisherman's Wharf in San Francisco.
The

Musée Mécanique

is the Most Unique Thing to Do at Fisherman's Wharf
Musée Mécanique was always one of my favorite places to take out of town visitors, long before it was relocated to Pier 45 at Fisherman's Wharf. Now that I have a kid, it is even higher on the list of our must dos in the city! Musée Mécanique is a treasure trove of ancient arcade machines, robotic marionettes, fortune telling machines, and other electronic machineries from times forgotten. Animated film reels fill the museum, creating a busy space of noise and motion which is exciting to some, but could be overwhelming for some small kids.
Entry is free and most 'games' will cost you only one or two quarters to use, making it quite economical. Fans of old mechanics, video games, and the bizarre will fall in love with the riches within. A must see for both locals and visitors alike of all ages.
A Foodies Top Thing to Do at Fisherman's Wharf includes

Sampling Seafood & Sweets
San Francisco as a whole has more restaurants than any other city in the US which means it's always a tough decision deciding on which of the many wonderful places you should eat. Fisherman's Wharf restaurants are much the same – delicious. While the area has its share of chain restaurants, do your best to avoid those, even when you aren't sure where else to go.
While at Fisherman's Wharf, most people will tell you that you must partake in the classic fare of a Boudin sourdough bread bowl filled with chowder. If this isn't your cup of soup (haha), there are plenty of amazing seafood options up and down the wharf that have fresh seafood delivered right off fishing boats daily.
For a little fancier (i.e pricier!) seafood restaurant, head to the Crab House on the upper level of Pier 39. Here you can indulge in mussels and a whole crab to share. While the space is small, it is family friendly with a small kids menu available. If you don't have time for a sit down meal, grab some clam chowder or fish and chips at any of the delicious spots along the wharf. I haven't had a bad meal there yet!
If you are in town during the dungeness crabs season, you must splurge and get some. Dungeness crab are typically in season from November, however in recent years, the start date has been getting later and later.
After your meal, walk it off on your way to Ghirardelli Square for some mouthwatering chocolate samples and a massive ice cream sundae!
Looking for other adventures in the Bay Area? Head east to the Tri-Valley for an amazing museum, tasty food and beautiful outdoor adventures.
FAQ on Visiting Fisherman's Wharf in San Francisco
With all the advice on things to do at Fisherman's Wharf in San Francisco, I also share some tips on how to make your visit to one of the most frequented tourist areas of San Francisco even better.
When to Visit?
Fisherman's Wharf is open daily 365 days of the year. There is no fee to enter any part of the wharf other than specific attractions. The sea lions are around all year, but many visitors claim that the winter is the best time to see them more active.
How to Get There?
Public transportation is the best way to get to and from the wharf. Depending on where you are staying, you can either take a historic cable car down to the western part of the wharf at Hyde Street Pier or you can take a streetcar from Market Street anywhere near downtown. If you are staying in the Mission District, you can easily take a bus to Market Street to catch other transport or take an Uber/Lyft.
If you drive, expect to pay anywhere from $15- $45 per day in the local parking garages. There is virtually no street parking anywhere nearby as most streets require resident permits to park.
If public transport nor driving is possible, consider taking Uber or Lyft. Most rides within San Francisco are quite reasonable.
What to Expect?
The San Francisco Fisherman Wharf is one of the busiest tourist sites in San Francisco, so expect crowds at all times of the year. Between visitors taking Alcatraz boat tours, Pier 39 and the other areas of the wharf, there is always something open and luring people!
Be cautious of your belongings at all times in this area as there are known pickpockets and petty theft rings that work in the tourist areas. If you set your bags on the ground while eating, make sure to wrap your foot in the straps or put it under your chair.
Where to Stay at Fisherman's Wharf in San Francisco
There are so many places to stay in San Francisco, that I don't often recommend visitors stay near Fisherman's Wharf, however there are benefits to staying in this area. If you are in town for a short visit, most of your planned activities are in this area of town or you don't want to rent a car, then consider staying in this area.
The one hotel I can recommend from experience is the Argonaut Hotel. It is on the western end of the wharf in a quieter area. This hotel has a great feel and offers the convenience of being only a few steps away from the center of the action when you want it, without the hassle of the crowds when you don't want it.
If you have time while in the San Francisco Bay Area, make sure to check out our top things to do in San Francisco including a visit to the Japanese Tea Garden, Twin Peaks and the concrete slides in Golden Gate Park. Or check out more of the Bay Area's best national park sites including World War II sites and John Muir's home! We particularly love taking a day trip to Muir Woods for a little nature bathing.
Are you visiting other places in California? Check out some of our other posts for the top destinations in the state.
Have you been to Fisherman's Wharf in San Francisco? What are your favorite things to do and see?
If You Enjoyed This Post, Sign Up To Receive Posts By Email or…
Join us on Facebook for regular updates and related articles
Check us out on Instagram to see what we are up to in photos
Follow us on Twitter for links to great travel articles curated just for you
Or share this post with others by pinning on Pinterest!