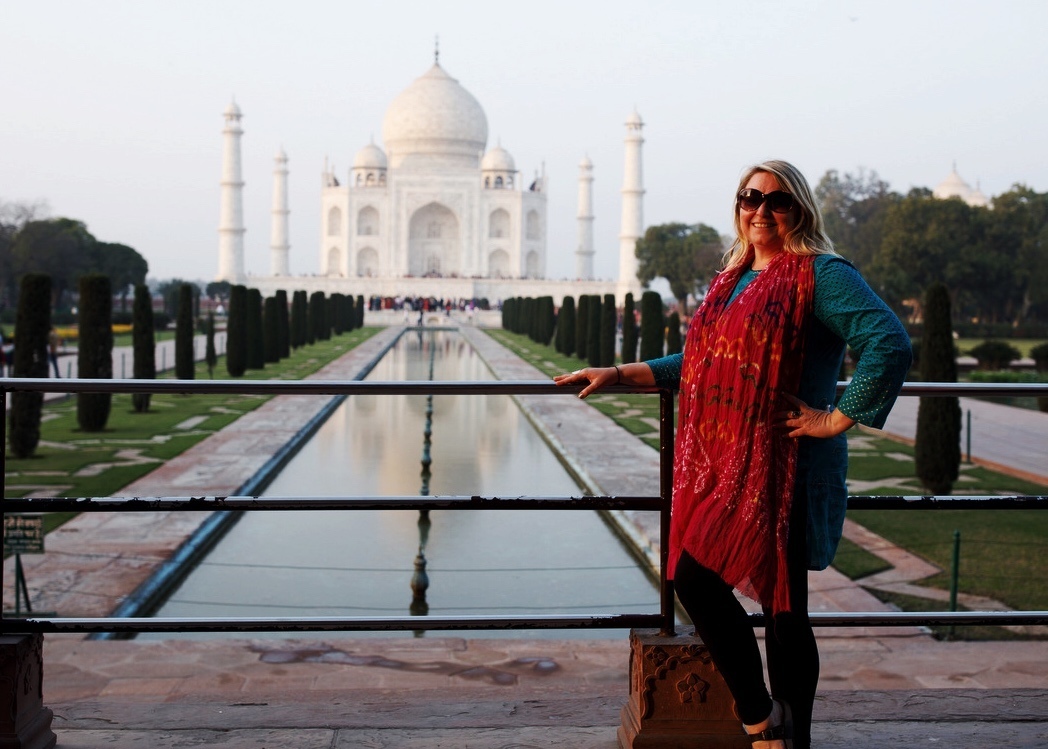 If you are like me, you probably tend to over pack for destinations that you don't know personally. I find this especially true when visiting a developing country.  On my first visit to India I took WAY more than I needed. I listened to people who had only visited the country for short times and who also probably took way too much!
I had loads of medical supplies, so many clothes that were too hot to wear there, inappropriate shoes etc. After living and traveling the country for more 14 years, I now know what to pack for India and what to buy there. Read on for my top travel essentials for India and a free downloadable India packing list.
Disclosure: Some of the links in this post are affiliate links, meaning at no additional cost to you, I will earn a commission if you click through and make a purchase.
What to Pack for India
Luggage
The first step in planning what to take to India is what to take it in. I am well past the days of backpacking, but for India I highly recommend a bag that is easy to carry as you may end up carrying your bag much more than you want to. The roads are often terrible, elevators don't always work and moving large bags on and off trains is cumbersome. Backpacks or backpacks with wheels are great. I am currently obsessed with the Eagle Creek Global Companion (it comes in 40L and 65L) It opens like a suitcase, but you wear it like a backpack.
Don't forget locks to keep your belongings safe while traveling and while storing on trains and in your room.
For day to day activities, bring a shoulder bag or light backpack for your camera, phone, etc. Bags that zip are recommended to reduce the chance of pickpockets. We love foldable backpacks. My favorites are from Muji and from Eagle Creek.
Clothes
Lightweight clothing is essential. For much of the year, in much of the country, it is hotter and more humid than you can imagine (unless you live in Texas or Florida). Pack lightweight clothing that dries quickly as there are very few dryers in the country and with the high level of humidity, thicker clothes take longer to dry.
That said, I would also highly recommend taking a lightweight puffy jacket if you travel to northern India during the winter months. It can get surprisingly chilly at night and while riding in auto rickshaws. I LOVE my Patagonia jacket. It is not cheap, but it packs so small and is toasty warm perfect for a variety of climates.
Ladies, leave those bikini strap tanks or short skirts at home unless you are only planning to travel in Goa. Even though those clothes work in the Indian climate, they are not appropriate.
Men, avoid shorts as well unless you are predominately on the beaches.
Leggings are a great choice for the ladies
Long shirts that cover your shoulders & cleavage (and your bum if you are wearing them with leggings)
Long skirts or dresses that cover your knees are great to wear for most day to day activities
Dresses to be worn out at night, on the beach or over leggings (below the knee is a must)
Light weight pants – both for men and women
Baggy, lightweight tops are great even if they are long sleeve
[box]Tip: Wear white and bright colors even if it's not your normal. Your photos will look so much better with a pop of color against the beautiful structures, desert scapes and in the jungle.[/box]
Shoes
India has an amazing selection of shoes, however you will definitely want your own flip flops, tennis shoes etc for the majority of your travels.  The best shoes that I have found for travel in India are Keen waterproof shoes (or similar types). They are lightweight, rugged enough for hiking and can be worn during the rainy season as well. These work well for women, men and children.
Otherwise for women who want a cuter daily sandal, I love my Josef Seibel Tonga sandals (and the sneakers as well). They are super comfortable for all day walking, have cloth foot pads so your feet don't slide around when they are sweaty and they look cute with leggings and dresses.
I also highly recommend bringing a small light pair of flip flops. These are great for showers at cheaper hotels or hostels, the pool or the beach.
Toiletries
If you are particular about what brand of shampoo, conditioner and body soap you use, then bring them with you. Otherwise you can buy many Western brands for much cheaper in India. However, you will not always find the small travel size if that is important to you.
The main items I suggest to bring from home are feminine hygiene products and deodorant for women. These are not as easy to come by outside of the larger cities.
Sunscreen is another toiletry I always recommend visitors to India bring from home. The quality that you will get from your home country will be much better than what you can find in most shops in India. ThinkSport is our favorite brand for adults and kids.
Another necessity for your toiletries is small packets of tissues. These will come in handy for restrooms without toilet paper, which are many!
For families traveling with children, diapers are easy to find, however they are not always the same quality. My suggestion is to bring enough for each night and use the local diapers for the day. Wipes are available, but if you prefer more natural varieties, it is best to bring that with you.
Medication
This is where people tend to get nervous and completely over pack. In short, I recommend taking only a small medical kit as well as a good supply of your prescription medication taking into account possible delays in getting home.
What to include in your medical kit you ask? Check out my list on the free downloadable India packing list. I suggest the following: headache medicine, motion sickness pills (if you are prone to it), TUMS and imodium. Your kit can also include a few bandaids and sterile wipes. But seriously, that is all you need.
Medications are super cheap in India and most can be purchased with no prescription. Don't weigh down your bag with unnecessary items or spend a lot of money on purchasing CIPRO or other antibiotics. Bring a small stash of the basics and buy what you need as you need it. Chemists (aka pharmacies) are everywhere and most stock everything you would need at a fraction of the cost.
Travel Sheet
I don't often stay in budget accomodation in India but when I did, the one thing that I couldn't travel without was my silk travel sleep sheet. It gave me piece of mind at night that I was protected from bedbugs and who knows what else. It is also light and cool when you are staying in a place without AC. If you plan on traveling on a budget in India at all, this is highly recommended!
Cash
In India, cash is still king and while USD (or Euros) is not the cash vendors are looking for, it will be useful to have in case of emergencies. Since becoming so reliant on ATMs, and after living in the country for so long, I forgot how finiky the ATM's are in the country and arrived with only $20 cash. You guessed it, my ATM card was frozen at the first ATM I tried and then even once cleared by my bank, still wouldn't work in the 15 other bank machines I tried.
ATMs in India are notorious for being troublesome with foreign debit cards. Typically if you use international bank ATMs your card will work, but not always. In this case, it is imperative to have some cash on hand to get you through or to the next big city.
Also, note that India does not allow cash advances from credit cards (from inside a bank). Don't make the same mistake I did. Carry at least $100-200 USD for your trip in case of emergencies.
What to Buy in India
Mosquito Repllent
Everyone will tell you to bring insect repellent from home. I completely disagree. Every person we took around the country who used their mosquito repellent from the west got eaten alive. We use what the locals use – Odomos. It is probably loaded with terrible chemicals, but it's a price I'm willing to pay for a few weeks and to avoid dengue or malaria. It smells wonderful so you won't even realize it's mosquito repellent. They have original and a natural based cream which both seem to work well.
For children, you can buy mosquito stickers. Or better yet, buy these mosquito bands which are amazing. They smell good, are not toxic and provide a decent amount of protection from mosquitoes. We recommend wearing one on each wrist and each ankle. Check out our post on how to travel to India with kids to find out more about what to expect and pack.
For your room, I recommend buying (or asking the hotel if you are at a nicer hotel) the plug-in mosquito repellent. I use this at night and place it next to the bed to keep the mozzies away in the night.
While at the chemist, pick up some Sensur Oil which is great for stressed out days, useful to cover the smell of stinky bathrooms and if rubbed on mosquito bites helps reduce the itch a bit.
Indian Clothes
If you want to dress like the locals on your trip (which is totally fine and not considered a form of cultural appropriation), head to FabIndia or Anokhi, two of our favorite shops to buy great quality Indian wear with western sensibilities. At FabIndia you can find plain colored kurtas (long or short shirt to go over leggings) even black which used to be difficult to find. If you really must get something before you arrive to India, Amazon has a decent selection of kurtas available for men and women.
Scarf or Shawl
You cannot travel to India without a scarf or a shawl of some sorts. Whether you will need it for a camel safari or to cover your head for a temple, you should always have one with you. I personally prefer either the high end pashminas or the super cheap cotton tie dyed shawls found all over Rajasthan. If you don't have one at home, plan to pick one up when you arrive in India. This shawl is one of my travel essentials and one you can find in upmarket shops in Rajasthan even!
Souvenirs
Make sure to leave room in your bags for plenty of souvenirs. I loved to bring back textiles. My husband loves these miniature paintings from Udaipur. For kids I always load up on bangles, stickers and auto rickshaws. If you are in Delhi, make sure to stop off at one of our favorite places to shop in Delhi, Dilli Haat. If you are down south, find your way to our guide on the best places to shop in Mumbai.
If you are heading to India, make sure to check my archives for tons of information on how to prepare for your trip, how to avoid culture shock and what to do once you have arrived!
If You Enjoyed This Post, Sign Up To Receive Posts By Email or…
Join us on Facebook for regular updates and related articles
Check us out on Instagram to see what we are up to in photos
Follow us on Twitter for links to great travel articles curated just for you
Or share this post with others by pinning on Pinterest!